Got some of these for my prepping group. here is what is left that was not paid for by members of said group
I am sure there are more than a few that can use this. They run $70 or more on amazon.com I will take $62 for it. Shipping is extra and no idea how much. I live in New castle, DE
includes
5 Day Survival Backpack with food, water, first aid and warmth. 32 Servings of Gourmet Meals. Includes: Apple Cinnamon Cereal, Brown Sugar Cereal, Creamy Pasta, Southwest Beans and Rice, Rice Pilaf and Whey Milk. 5 Water Pouches. Portable Stove Including 24 Fuel Pouches. Stainless Steel Cup, Squeeze flashlight, 5 in 1 Survival Whistle, Waterproof Matches, Mylar Blanket, Emergency Poncho and Playing Cards. 42 Piece First Aid and Hygiene Kit. Includes Bandage Kit, Dust Mask, Pocket Tissues, Wet Naps and a Waste Bag.
The only thing I really cant think of it it that it should have is a knife
What the wise kit does not have this does
This one is $22
It comes with a hand crank flashlight, emergency reflective blanket ( its small and thin but is supposed to preserve body heat) , Survival kit with matches, fishing supplies and the usual, compass, whistle, magnifying glass, generic swiss style army knife. cable saw for cutting trees and branches an more.
Personal safety kit by Bushcraft $16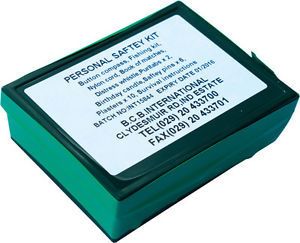 comes with Personal Safety Kit - A compact, pocket sized survival kit with all the bare necessities. Contains: Button compass; Fishing kit; Nylon cord; Book of matches; Distress whistle; Puritabs x2; Birthday candles; Safety pins x6; Plasters x10; Survival instructions. Green storage case. Hang packaged.
I need to get a pic, but after the maryland riots i bought a bunch of pepper spray at friends shop I will be listing. They are small and fit on a keychain. They are made by mace and will be $9 if you buy 2 $8 each or 3 for 7 each.
No I dont have a website but a photobucket link. I am not a business just have some good connnections
Other knives here. Lots of good stuff
http://s1154.photobucket.com/user/ljbarms/library/?sort=3&page=1
if you look to the left you will see links for army, navy, marines, air force, kershaw knives and various themes.
If you buy two knives from me Ill take $5 off the price of the wise kit or $3 off the other kit.
Also if you want to add MRE's to the kid I have 10 left of two cases. I want $10 each but if you buy the kit ill do $7.50 for each mre. They are by eversafe and 2013 production. COmplete meals with heaters.
Knives in from various companies ill list soon, but spyderco, zero tolerance, heckler and koch, zero tolerance kershaw and others.
Located in New Castle. SHipping is mandatory as i travel and extra depending on what you want as well. Electronic payment , money order so forth.
The wise kit should be about $10 to ship the little kits about $5 and the mid size probably $7.